Welcome to EMS Fitness Norwich
Want healthy results once and for all?
EMS Fitness Norwich gives you the support to create real lifestyle change. Lose weight, tone up and improve your fitness. Working together with us, you'll gain the motivation and momentum to make that all important difference.
What makes EMS Fitness unique?
Our boutique fitness space in central Norwich is small but perfectly formed and super well equipped, allowing you to get a great workout without any distractions. No messing around, just you and your trainer.
At the studio we give you the motivation and individual attention that makes exercising effective and efficient. We'll build you a dedicated training plan, taking time to learn about your diet and lifestyle, so you know you're getting the right workouts for you.
The personal trainers at EMS Fitness Norwich are educated in the science behind the exercise. We raise the standard above other personal trainers you find in large gyms.
Get extra support on your fitness journey from our experienced team. We're dedicated to helping you stay on track and keeping you accountable for your effort.
Our specialised group classes are held in small groups with a friendly and connected atmosphere. This creates a community where you get to know the people you're training with, developing a strong motivational and supportive system.
Norwich's only experts in EMS training

Want to lose weight, tone up and get fit? But you simply don't have the time?
Electrical Muscle Stimulation (EMS) is a new fitness technology. Utilising small pulses of electrical charge to activate muscles, it is proven to aid both specific exercise schedules and general workouts. It's an innovative training method that's proven to be safe and extremely effective.
Requiring only 20 minutes to produce a result normally associated with a two hour session, this is an efficient and modern exercise system, perfect for individuals with a busy life and a limited time for workouts.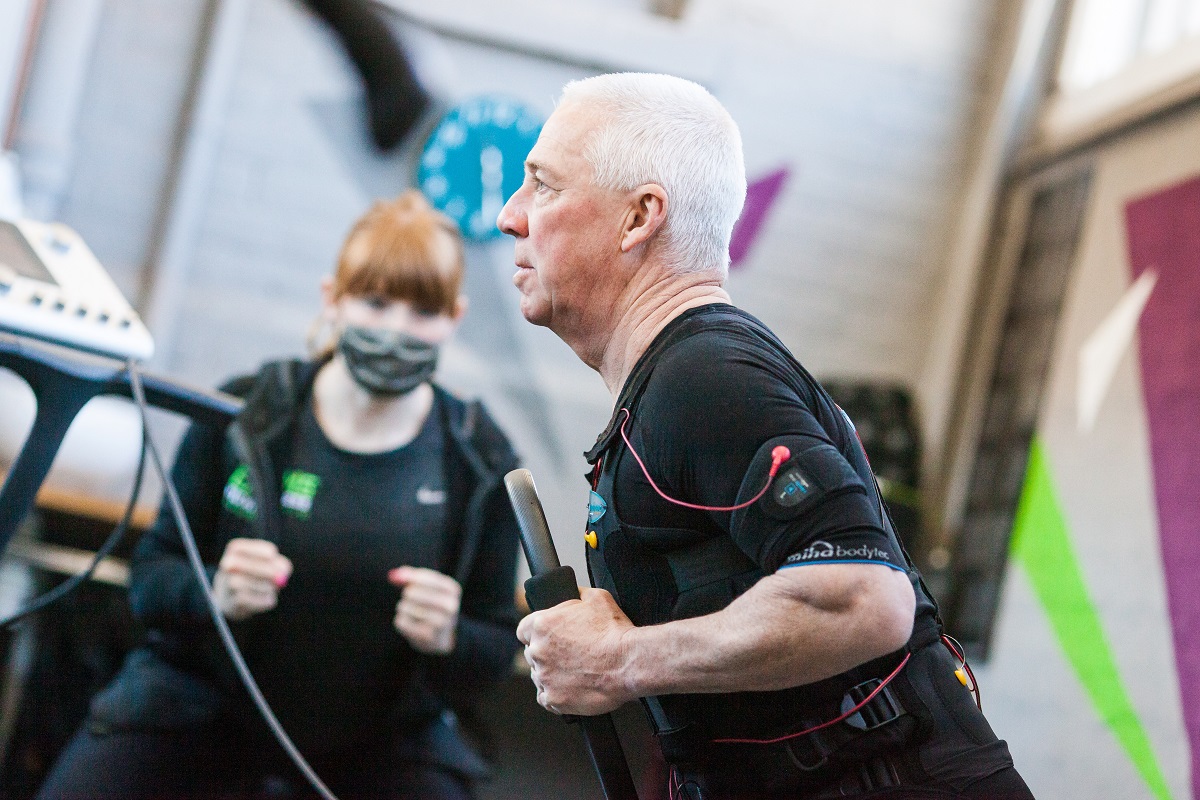 Find out how EMS training could make a positive change to your life and fitness
Contact us on 01603 517920 for your FREE session – worth £33.50.
How is EMS Fitness Norwich different from other training studios and gyms in Norwich? We like to go beyond exercises and techniques. When you take on change in your life, there are always difficulties and self doubt – we help you develop mental systems and strength to smash through these barriers.
Whether you require a gentle positive enforcement or full accountability, we'll be there to support you.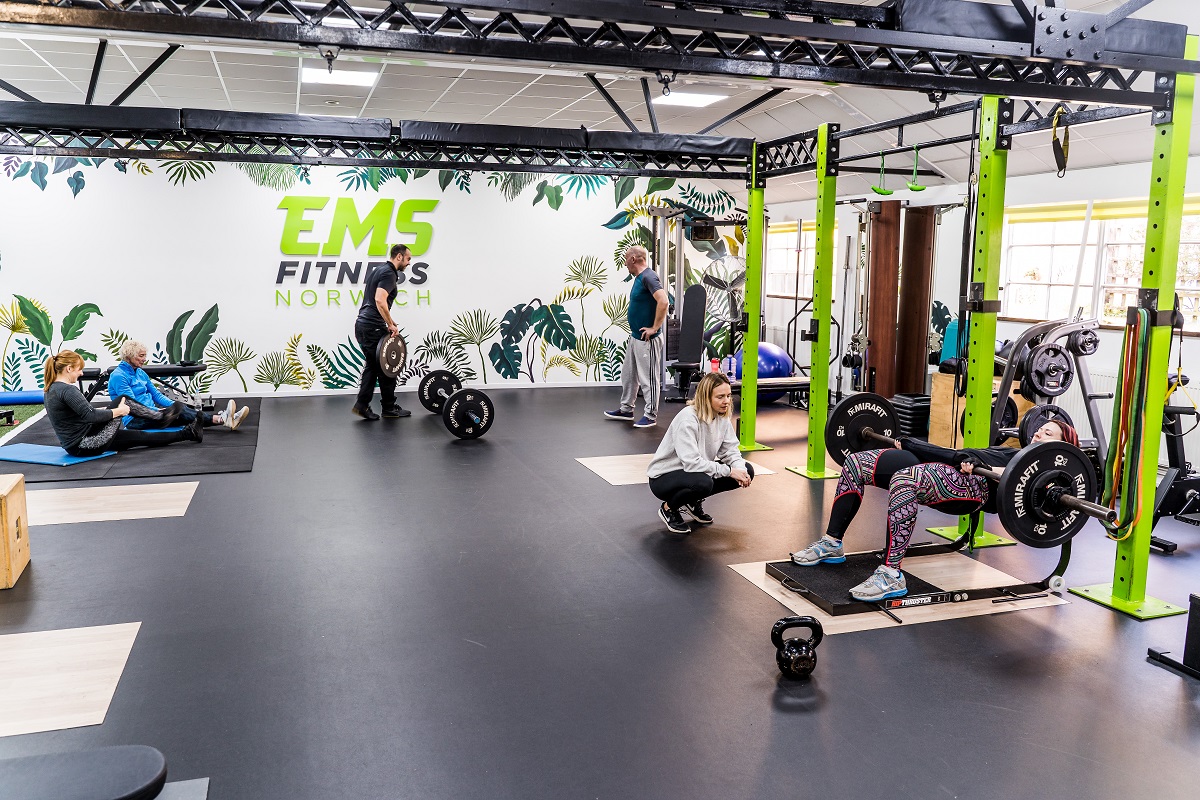 Meet the trainers at EMS Fitness Norwich
Sophie Wiggins
13/07/2020
I am SO glad I signed up to EMS fitness. I've never really enjoyed exercise by training with Bea has given me my confidence back and I really look forward to our sessions. Great communication, great support and really worth the money!!
I've never felt fitter in my life. Bea and Xavi push me every class and I can't wait for each session to come around the corner! I wouldn't go anywhere else! 💪
I broke my shoulder playing football and working closely with Bea she designed an EMS programme which successfully increased strength and mobility to my shoulder and core. Bea's sessions are always fun, supportive and full of positivity. Her instruction is always clear and she is sensitive to my physical capabilities, instinctively directing the session levels which are right for me. Bea from EMS is a fantastic PT!
Fernando Lozano
02/07/2020
Thank you very much for your years of service Bea & Xavi and specially for your support throughout this last few months. Your knowledge and motivation to train people make a really enjoyable session. For many more years together 💪💪💪
Great studio, great people!! If you want to improve both physically and mental this is definetely your place. Thank you Xavi and Bea!!!
EMs fitness are just the best. I love the classes so much that I have continued attending them remotely from London! I have been attending the hiit class, bootcamp and have a personal training session once a week. Xavier and Beatrice make the sessions FUN and push you to not only work hard and get fit, but also to make sure you do the exercises properly to make sure you get the most out of the sessions. I look forward to every work out with EMs fitness Norwich and I've noticed a difference in my body shape (more muscles) and my mental health - happier and stronger! Love you guys! Thanks for keeping me sane during the normal days and lockdown! Keep it up. Tyson x
Jaime Bartolomé Rodriguez
30/06/2020
I have really enjoyed joining in with the online classes - every week is a new challenge and makes me great seeing the progress I have made. I couldn't believe I feel fitter now than I did before the quarantine period! I especially like the community of class - everyone at home doing a joint work out, being motivated by Xavi has been surprisingly good fun. Thank you Xavi for giving me the encouragement I needed.
Over the last few months I have participated in the classes EMS have provided online. I have never joined in with live classes before and I wondered how it would be? I'm happily surprised by how they have made a good difference in my life! Not being able to go to the gym or even leave my house for a months I thought I would go crazy! But the classes gave me a routine and motivation to keep exercising throughout the Covid pandemic. A big thank you to Xavi for keeping me active and fit and giving me something to look forward to every week!
My physio recommended Xavier for strength and conditioning training and I've been really impressed with his knowledge and enthusiasm. My running has benefited from the sessions and I've learned loads about training with weights.
Cannot reccomend this place enough! Been working out with Javi and Bea the last year and found them very friendly and professional!