Postnatal EMS: Training for New Mums
Electrical Muscle Stimulation (EMS) training is a revolutionary style of training that offers full body workouts in only 20 minutes. Its benefits are clear - but could it be the perfect way of training for new mums too?
The benefits of EMS training for post-natal women
So, you know all about the general benefits of EMS training: it's quick, safe and easy, it gets you a full body workout in just 20 minutes, and it's gentle on your joints.
But what's specifically beneficial about EMS training for new mums? The 3 key benefits are: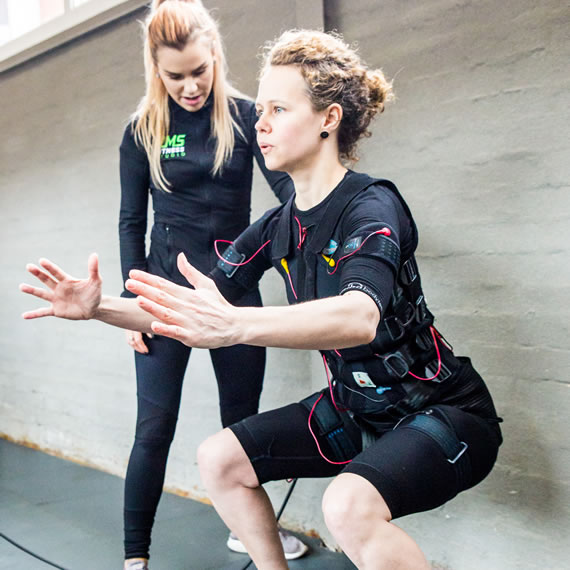 Strengthens your pelvic floor
Because EMS training targets deep muscle tissue, it can strengthen your pelvic floor quickly after giving birth, meaning a real reduction of postnatal pelvic floor weakness.
The EMS suit electrically stimulates specific muscles in your legs, buttocks and stomach, which contract under the stimulus. The pelvic floor muscles are connected to these muscles, so they also contract. The EMS training system is a great way to strengthen your pelvic floor with just gentle bodyweight exercises.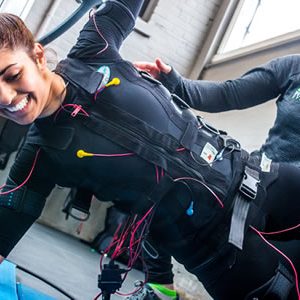 Tones abdominal muscles quickly and safely
The abdominal muscles often suffer the most during pregnancy. Your abdominal muscles lengthen and separate over the course of your pregnancy – not to mention the pressure put on them during the birthing process.
It's important that you begin exercising your abs gently after pregnancy. Training too hard too quickly could lead to injury. The EMS programme is a quick and safe way to train your abs. Because the system allows for a very gently ramping up of intensity, it's the perfect way to get started training after pregnancy.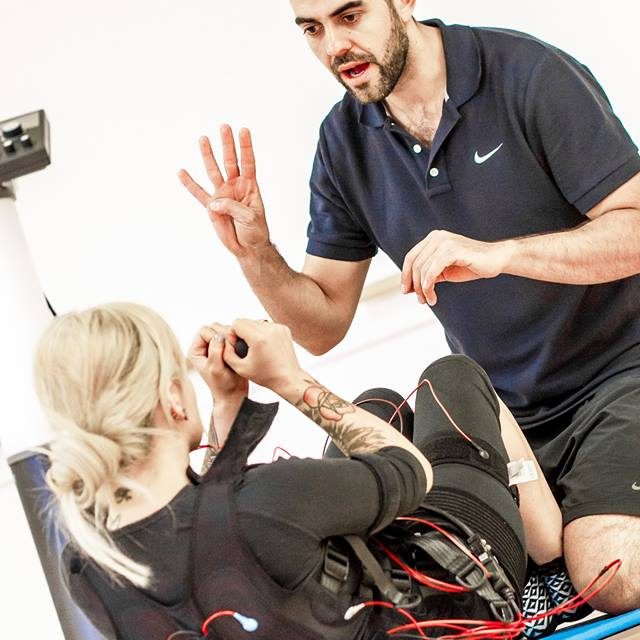 Super quick workout – only takes 20 minutes
If there's one thing that new mums can never have enough of, it's time! Luckily, an EMS workout only takes 20 minutes. You can even bring your new baby to our private, boutique studio.
Despite the short length, an EMS session actually offers a whole body workout. Because the suit can electrically activate muscles all across your body at one time, it makes it quicker and easier to get a whole body workout that really works. Plus, your trainer can fine tune the amount of activation to each area of your body too, making it a really safe way to train for new mums.
Why EMS works: the science
EMS is scientifically tested to be safe and effective. There have been lots of studies on EMS training and its benefits for the general population and for sportspeople and athletes. But, what about postnatal women in particular?
A recent study published in the Annals of Rehabilitation Medicine looked at the effectiveness of EMS training, specifically looking at abdominal muscle strength in postnatal women. One group of women undertook a programme of ab exercises, while another group used an EMS machine and the same programme of exercises. Those who used the EMS training system showed increased abdominal muscle strength and recovered more quickly than those that didn't.
The study attributes this to the extra recruitment of muscle fibres through the EMS system. Because the EMS machine is electrically stimulating your muscles, it can actually activate deep muscle tissue far easier than conventional exercises. It also activates a much higher proportion of muscles than most conventional workouts.
 Case Studies:
Sophie Wiggins
13/07/2020
I am SO glad I signed up to EMS fitness. I've never really enjoyed exercise by training with Bea has given me my confidence back and I really look forward to our sessions. Great communication, great support and really worth the money!!
I've never felt fitter in my life. Bea and Xavi push me every class and I can't wait for each session to come around the corner! I wouldn't go anywhere else! 💪
I broke my shoulder playing football and working closely with Bea she designed an EMS programme which successfully increased strength and mobility to my shoulder and core. Bea's sessions are always fun, supportive and full of positivity. Her instruction is always clear and she is sensitive to my physical capabilities, instinctively directing the session levels which are right for me. Bea from EMS is a fantastic PT!
Fernando Lozano
02/07/2020
Thank you very much for your years of service Bea & Xavi and specially for your support throughout this last few months. Your knowledge and motivation to train people make a really enjoyable session. For many more years together 💪💪💪
Great studio, great people!! If you want to improve both physically and mental this is definetely your place. Thank you Xavi and Bea!!!
EMs fitness are just the best. I love the classes so much that I have continued attending them remotely from London! I have been attending the hiit class, bootcamp and have a personal training session once a week. Xavier and Beatrice make the sessions FUN and push you to not only work hard and get fit, but also to make sure you do the exercises properly to make sure you get the most out of the sessions. I look forward to every work out with EMs fitness Norwich and I've noticed a difference in my body shape (more muscles) and my mental health - happier and stronger! Love you guys! Thanks for keeping me sane during the normal days and lockdown! Keep it up. Tyson x
Jaime Bartolomé Rodriguez
30/06/2020
I have really enjoyed joining in with the online classes - every week is a new challenge and makes me great seeing the progress I have made. I couldn't believe I feel fitter now than I did before the quarantine period! I especially like the community of class - everyone at home doing a joint work out, being motivated by Xavi has been surprisingly good fun. Thank you Xavi for giving me the encouragement I needed.
Over the last few months I have participated in the classes EMS have provided online. I have never joined in with live classes before and I wondered how it would be? I'm happily surprised by how they have made a good difference in my life! Not being able to go to the gym or even leave my house for a months I thought I would go crazy! But the classes gave me a routine and motivation to keep exercising throughout the Covid pandemic. A big thank you to Xavi for keeping me active and fit and giving me something to look forward to every week!
My physio recommended Xavier for strength and conditioning training and I've been really impressed with his knowledge and enthusiasm. My running has benefited from the sessions and I've learned loads about training with weights.
Cannot reccomend this place enough! Been working out with Javi and Bea the last year and found them very friendly and professional!
Frequently Asked Questions About EMS Training For New Mums
How long after giving birth can I start EMS training?
The recovery period after giving birth varies greatly from person to person. You should consult with your doctor before starting any form of training as a postnatal woman. However, a "grace period" of around 6 weeks is common before you can start gentle training, with gradual buildup of intensity after. In some cases, the recovery period can be up to 9 months, so ensure that you speak to your doctor to discuss this.
Does it matter how I deliver?
The same rules for training recovery apply whether you had a Caesarian or a vaginal delivery. This can obviously still vary widely from person to person so please consult your doctor.
Can you train with EMS if you have a prolapse?
Training with EMS is particularly effective for pelvic floor weakness and related issues such as prolapse. Even lower intensity training with the EMS has been shown to have a positive effect on pelvic floor strength. The University of Bayreuth study linked below showed clear improvements in symptoms of urinary incontinence in postnatal women. EMS training, coupled with specific pelvic floor exercises, is a really effective way to regain pelvic floor strength and reduce the symptoms of incontinence.
What about breastfeeding?
In general, we recommend that breastfeeding mothers breastfeed before they train. There is a lack of medical study on this topic, but anecdotal evidence would suggest that some babies do not seem to take breast milk after training. However, there is unfortunately little conclusive medical research to understand why this might be. We recommend discussing with your doctor to get the right information for you.
BOOK YOUR FREE TASTER SESSION NOW
Call

01603 517920

 Email

info@emsfitnessnorwich.co.uk

to book your

FREE

 trial session